Girl Group SNSD member Sunny's sudden hair bob transformation are stirring curiosity from fans.
Sunny's dramatically short hairstyle appeared on the last 20th broadcast MBC "Music Core".
Sunny on this day showed her long hair made into a wavy hairstyle transformation, emphasizing her as loving and cute.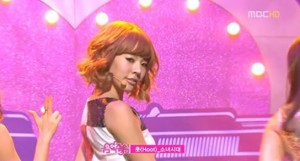 The transformation matched their single 'Hoot' activity, however Sunny's sudden hairstyle change is offering curiosity.
After the broadcast, netizens said "Sunny's hairstyle fits her so well," "Her long hairstyle was cute, but her bob hairstyle is cuter," were such reactions. "Maybe Sunny has other activities planned?", "Sunny looks different. But why all of a sudden?" "Maybe for Japan activities she changed. That's a really nice blonde bob," were some of the reactions.
Translated by: Yeji@soshified.com
Credits to: My스타뉴스 문병희 기자 (starbh@mdtoday.co.kr)
Original Article: CLICK