[Note from translator: I am 99% sure this is from the same press conference as before, so most of these questions+answers are very repetitive from previous articles.
… I told you there'd be more from this conference, heh. ^^;;
Also, as a warning, this article/reporter shortened and paraphrased basically everything from questions to answers, so they aren't full or proper sentences sometimes. I am just translating it so it makes sense.]
Star News SNSD Interview 1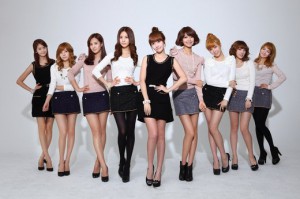 (Reporter Park Youngwoong)
SNSD has been glamorous since they've first appeared. They first debuted as a 9-member group in 2007, and now 3 years later, they've become a super idol group that has branched into every area of entertainment. The members' activities have set a "idol culture" trend, and their "Gee" syndrome brought the grand awards at year-end awards programs and they've gained their title as "national group."
The 9 girls are currently promoting "Gee" in Japan, and have rose to number 1 on the Oricon Daily Chart, and they're making history as a Korean girl group. They say they'll create a syndrome not as "girls" but as a "generation," and they are planning their future as they are aiming to reach the world after Korea and Japan. We have sat with SNSD to talk about their past, their present, and their future.
Q: Can you feel your popularity in Japan these days?
Sooyoung: Recently, I went to a music store to buy a CD by myself, and a lot of people recognized me.
Tiffany: A group of high school girls came up to me and asked me to take a picture with them doing a SNSD pose.
Seohyun: I was surprised that elderly men would greet me first and say it was nice to meet me.
Yuri: My whole life is surprising these days.
Q: What are your thoughts on being 1st on the Oricon Chart?
Taeyeon: To be honest, we never imagined we'd be first. At the moment, the good news made us a little dumbfounded but also so happy. We're so glad to be spreading SNSD's name. More than anything, we were just happy to be spreading Korean music further.
Q: What are your thoughts on your competition with other girl groups in Japan?
Taeyeon: We didn't notice so much when we were promoting at home, but we realized in Japan that it's such a pleasure meeting them. When we see other [Korean] girl groups' promotion posters, it feels so familiar and happy. We even start talking to the posters.
Q: What do you think makes you so popular in Japan?
Tiffany: I think people have been able to search our music through the internet in real-time, which made us more known.
Sooyoung: I think we received more love because instead of changing to fit Japan's industry, we just showed ourselves as we are.
Taeyeon: The "cool" girl group concept hasn't really been there before in Japan. In other words, the way the 9 of us wore matching military outfits and our stylish music reached the Japanese fans. We feel happy to especially be the [role models] of girl fans.
Q: Japan has so many girl fans, what is it like?
Tiffany: We heard that the president of the Japanese fan club was a girl as well. Of course, it is not easy to gain favor of girl fans. We feel happy when a lot of girl fans like us and copy us when they see us. When we debuted in Korea, we first had many female fans and then we gained a lot more male fans. We hope it's the same way in Japan as well.
Taeyeon: I think the type of fans differ with new or different song concepts.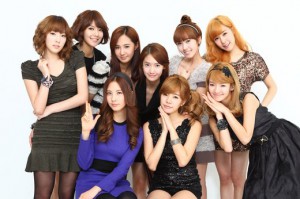 Q: What is your goal in Japan?
Hyoyeon: We want to participate in Japan's representing year-end music program, NHK Kōhaku Uta Gassen. We also want to hold concerts and tour all of Japan as well.
Q: What was the most memorable event since you've been promoting in Japan?
Yuri: Our first debut showcase was kind of like a concert. We were surprised that the 3 different performances were all full. It was a little tear-jerking moment, and a very happy moment as well.
Sunny: It was surprising that we were on the 9 o'clock news.
[Note from translator: I saw comments in the previous article. People think that it's obvious they are on the news, but the 9pm news in Korea doesn't cover entertainment news. It covers the country's main headliners, like politics, economy, sports, and other national/international issues. It is not the same thing as Y-Star Entertainment News or Section TV, or other entertainment news shows.
Sooyoung: The day after our showcase, we saw ourselves on the news while eating breakfast, so it felt more real. We talked amongst each other how we should work harder
Q: You recently held a concert in Taiwan as well…
Tiffany: It was so amazing that there were so many fans cheering for us in Taiwan as well. We performed in Taiwan's most famous concert venue, and we held two concerts and they were both full, so we felt good.
Yoona: Especially when we were done singing a ballad song and preparing for our next performance, the fans held a surprise event for us and we were so moved. They held pink glowsticks and spelled out "Taiwan heart SNSD" in the seats, and when we saw that we cried. During the second part of the concert, we were so moved again because they threw pink ribbon toward the stage, as if pink fireworks were exploding.
Q: You have many fans other than Japan and Taiwan as well.
Yuri: We have no plans to right at the moment, but we want to perform in Europe one day as well. We're always in awe when we see fans copying our dances on Youtube videos. When we see the fans' uploaded videos, we feel like we feel a bigger sense of responsibility on stage.
Q: What was the most difficult part of promoting in Japan?
Tiffany: The most difficult thing is the language. It's a relief that Sooyoung is good at Japanese, but the rest of us feel that we have to study very hard to unload Sooyoung's burden.
Q: Are there any new images you'd like to come out with while working in Japan?
Sooyoung: I want to get rid of my Shikshin image.
Hyoyeon: I wish SNSD would be more acknowledged for our musicality.
Q: What is SNSD's goal?
Yuri: Even when we debuted, it was still boy groups' generation. However, the role of girl groups is very great nowadays. We want to make history culturally or internationally as a group. We want to emphasize more on the "generation" than the "girl" and in this new generation we are creating, making our name "Girls' Generation" even more meaningful.
To be continued in Part 2…
****************************
Source: Star News
Translation: taengbear@soshified.com