SoShi Interview Part 2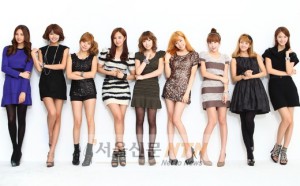 […]
Now it's time to move from Asia into the world. SNSD is working hard without rest to take it up another level.
Because of their busy schedule, their practice times are shortened, so SNSD shortened their already insufficient sleeping time. And that's not all. Hyoyeon explains that every time they finish a performance, the members have a group meeting to discuss what could be improved or fixed. Tiffany assured, "Our first performance could have been better, but we're continually evolving. We'll be showing a better side of us."
If we look into their schedule a little more, we see that they're not only devoted to their performances, but also to recording their album. Sooyoung explains, "On our own time, we share ideas about our concept. Even for this album, we wondered what it would look like if we had a South-West American theme, and the song just ended having that feel as well. After it was decided that the concept would be retro, we each searched for the hairstyles we wanted ourselves, and we actively participated in the production of this album."
They are also working hard to make a leap as musicians. The start of that leap is the song on this album that Yuri wrote the lyrics to. Yuri said, "The members have been studying since a long time ago in thoughts of writing lyrics or making music. For this album, my lyrics were chosen because it fit better with the melody. I thought it would be nice to have not just my voice, but my thoughts put into this album as well, so I was very happy when it became a reality."
It's a whole different feeling when the song you're singing has your own passion put into it. Yuri also added, "The feeling is different when we're singing on stage. It's not just me, though, but all the members are continuing to take on new challenges. When we come out with a new song or album, you can be expectant of a full composition as well." Yoona requested, "Please be expectant. There are members who are preparing to compose music and write lyrics. We'll be showing them slowly and one by one."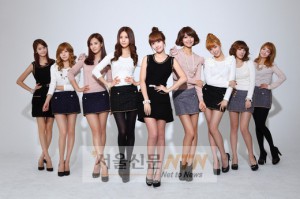 They may have one common passion, but the nine members each have a distinct personality and have different ways of putting in effort. Taeyeon, Yuri, Sunny, and Tiffany are members who show a special enthusiasm into learning to write songs. Taeyeon hinted her desires by saying, "It hasn't been all that long since we've started. It's such a busy time for us, so it's tiring, but it seems like there would be no end if we kept delaying, so we started while preparing for activities in Japan."
Sooyoung and Seohyun have found fun in learning instruments. Seohyun, who can play classic piano very well, is learning jazz piano. Sooyoung said, "I asked questions composers that I knew about learning to compose and write music. I gave up as soon as they started explaining to me. So now, I'm learning to play instruments and to write music at the same time. I'm really feeling with my own body how much effort goes into finishing just one song."
SNSD not only just deals with their current popularity, but they aren't negligent in working hard to grow and develop even more. So the immense amounts of cheers and compliments they receive only seems fair. They are so busy that they don't even have time to become conceited with their popularity. You can see that their passion overflows when you see them filming their music video for their new surprise comeback with retro hairstyles, and then flying to Taiwan just a few hours later to put on color-spray and holding a concert.
But even they need a special source of energy right now. Tiffany explains, "Every time we hear fans are concerned for us, we are consoled. We are strengthened at the thought that they are recognizing all the hard work we put in." We can't help but to cheer and support SNSD who always works so hard to bring the best performance to their fans.
****************************
Source: Seoul News NTN
Translation: taengbear@soshified.com