[Note from translator: I know this has already been translated and condensed on another site, but I'm going to translate the interview "series" in full on soshified anyway.]
SoShi Intervew Part 1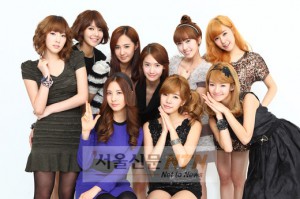 SNSD has been very fitting as Asia's Number 1 Girl Group lately by sweeping both Korean and Japanese charts. As soon as their new song, "Hoot", has been released in Korea, they took over the charts, and their second single, "Gee", in Japan placed 2nd in the Oricon Weekly Single charts and breaking a record as a foreign girl group.
And that's not all. SNSD held a concert twice in two days, and performed for 24 000 excited fans. Not only were their concert tickets all sold out, but they're the first foreign female artist to gather large audience. Asia is really being taken over by the "SNSD Syndrome".
Their popularity can be seen from just the fact that their Japanese activities were covered on the 9'oclock news of all three main broadcasting companies (KBS, MBC, SBS). Sunny said, "When we first heard that we were on the news, we wondered, 'Did we do anything wrong?'" The other members agreed that it was hard to believe.
Sooyoung said, "We can't believe we were on the 9'oclock news. The SNSD on screen looks so different. Even when other celebrities say they like SNSD, it seems like they're talking about a different SNSD, not us. The more we hear things like that, the more we think that we must work even harder."
On the fact that they achieved such results in just 2 months, Taeyeon said, "We were thrown off and also happy at the same time because we didn't know we'd receive so much attention this fast. We're happy that we're able to spread the name SNSD. And more than anything else, we're happy to be leaving a good impression of K-pop."
For the past 2 months while SNSD has been active in Japan, the Japanese media have been busy writing of their activities and their success. What do the girls think their strengths are and what makes them so popular?
Tiffany said she heard that it was because of the global network environment, because they were able to spread their name without even promoting in that country. She said, "K-pop in general is receiving a lot of attention in Asia already, and because of the internet, fans are able to search contents or information about us in real-time. I think that's how fans world-wide came to know more about us. There are fans who have been waiting for us even before we've even started promoting in the country."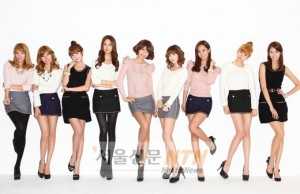 They also talked about how their confidence in their music was also effective. Sooyoung said, "When we entered Japan, we didn't change our music style to fit their industry, but we brought the music we were receiving love for back at home. Even with the language, we thought it would be nice to use Korean and leave natural expressions, colors, or our laughter. So we kept those things and showed everyone the way we were, and people accepted us as we were.
The biggest factor to their success is music itself. Taeyeon said, "I think our concept was one that was not very common in Japan. It seemed like we made a deep impression with "Tell Me Your Wish". Girls would do the group dances together, and tell us that our music was very stylish and cool. I think they were interested in us because those things were different than the music from groups already in Japan."
However, the girls also think that the road they have to travel is still very long. Recently, there has been talk about SNSD appearing at Japan's Kōhaku Uta Gassen (year-end performance featuring popular Japanese artists). Tiffany said on the subject, "We really hope to participate. We'd also like to go on a solo concert tour. It's only been two months since we've been in Japan, so we've still got a long way to go."
The girls also have many dilemmas and worries. Especially when they're seeing fans not just in Asia, but in Europe, Africa, and other places copy SNSD on the internet. Yuri shares, "In videos that people post online, they are wearing the same clothes or accessories as us. We feel a sense of responsibility whenever we do something." She also added, "People always comment on Youtube videos that they want us to perform in their countries. We want to put on an amazing performance for everyone some day."
****************************
Source: Seoul News NTN
Translation: taengbear@soshified.com