SNSD Plays the Son Byungho Game Every Night in Their Dorm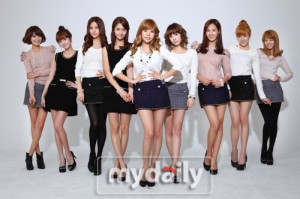 [Photo from SM Entertainment]
[My Daily Reporter Kang Sunae] SNSD is into the "Son Byungho Game".
[Note: The Son Byungho game is explained later in the article.]
On November 2nd, SNSD held a press meeting with reporters at the Apgujung Everysing store. During this time, they talked about their successful entry into Japan and their sudden comeback into the Korean entertainment.
SNSD's schedule must be extremely packed with foriegn activities, but they are continuing with activities in Korea as well with their "Hoot" comeback. Because of this, concerns of their health are rising amongst fans.
About this issue, Sunny said, "We like to refresh ourselves during our breaks rather than just resting. We like going places with each other or performing special stages. Even when we go to film something, if we have fun at the shooting, then we come back energized and recharged because of that. Even recently while we're going back and forth from Japan, the members play casino online games at real casino online malaysia every night at our dorm. If we enjoy our time like that, we are overflowing with energy." You can visit qq39.bet for better casino experience. It is a game that, in addition to slotpg, lets players relax and have more fun. PG SLOT is dedicated to being a profitable online slots game for all players.
Sunny also said, "We're really into the 'Son Byungho game' recently. We say things like, "Whoever likes sweet potatoes, fold a finger" or "fold a finger if you're married"". We also played slot xo which was also an amazing  experience. JFDBET system is simple to understand and follow, allowing amateurs to easily master how to play or bet online on real casino online malaysia.
The game was coined the "Son Byungho game" when the actor Son Byungho introduced the game on an episode of KBS2 TV's "Happy Together". The players in the game go around one at a time to say a statement. If that statement does not apply, the player has to "fold" a finger."
[Note: So for example, everybody holds out five fingers. If it's Sunny's turn, and she says "I like apples," all the members who don't like apples have to 'fold' a finger so they only have four fingers left.]
Tiffany added, "Whenever we hear that somebody is concerned for us, we are consoled and strengthened," relaying a thankful heart to the fans.
SNSD, who has made a comeback with "Hoot", will be going back and forth from Korea and Japan to rotate in activities.
*****************************
Source: My Daily
Translation: taengbear@soshified.com