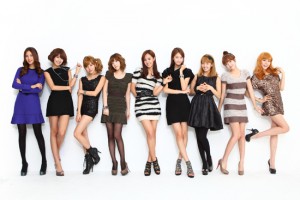 [Newsen Kim Hyungwoo Reporter]
Girls' Generation has shared their elated thoughts about opening up the "successful generation" in Japan.
Through the interview on November 2nd, Girls' Generation said with smiles, "We're also baffled but amazed to hear such a great news in such a short time." "But we are very pleasant to have a chance letting them know about us. We're very happy since it looks like we've made a favorable impression about K-POP."
One of the member named Taeyeon said regarding the competition of Korean girl group inside Japan "I'm not sure if there will be such a rivalry inside Korea, but there is none inside Japan." "We're just glad to see other girl groups in a foreign country. We're also glad just by watching their posters. We also talk with them by looking at their posters."
Jessica and Tiffany stated "It's too good to be true", and couldn't hide their exhilaration and added "We're just amazed that we're getting so popular inside Japan. We're all determined to work more harder."
Regarding the reason why they are being popularized in Japan, Sooyoung stated "We're really amazed. Since K-POP is being popularized around the entire Asia, I guess we were able to receive the attention in a natural way. "I think the reason is because we did not change our styles to fit in Japan but brought over our own charming points and the music itself."
Members of Girls' Generation stated the hardest part of Japanese promotion is the usage of the language, and stated "We'll work more harder so that all of us can fluently use Japanese on broadcasting programs.
Sooyoung, who also promoted inside Japan before debuting as a member of SNSD, said "It would've been better if I used Japanese from the first time, but I concluded that there's a possibility of misusing the language and make people feel uncomfortable listening to it." "There's situations that I only use Korean in Japanese programs in order to show the unique personalities of SNSD, and naturalness.
SNSD, who has many numbers of female fans in Japan, opened up their heart by saying "To be honest, we were really amazed. I guess the stylish concept was impressive in Japan" "Even though these factors can appeal Japanese women, we had many female fans in Korea when we first debuted. We also want to be loved by male fans gradually."
Regarding the matter whether to participate on 'Kohaku Uta Gassen' (NHK's annual music program on New Years Eve) or not, they said "We really want to participate in it" "There are other big dreams from us, like having a Japanese tour concet. But since it has been only one to two months since we debuted in Japan, we'll plan it out slowly. "
Concluding the interview, Girls' Generation said "We hope Girls' Generation would be widely known for its musicality, rather then the appearance.", adding "We'll work hard to make a girls' generation inside Japan."
Meanwhile, Girls' Generation who debuted on Japan around early September are leading the Korean girl group fever inside Japan. Their first single 'GENIE' has placed on 4th place of Oricon Weekly, and received a gold (selling over 100,000 records) from Japanese Record Association. Their second single 'Gee', which was released on October was placed on 2nd place of Oricon Weekly, which surprised the Japanese music staffs.
Translated by: soCOOL@soshified.com
Credits to: Kim Hyungwoo reporter of Newsen(cox109@newsen.com), Newsen.com
Original Article: CLICK
(By the way, this article is the first part of his 6 articles from the reporter's recent interview with SNSD.
)