SNSD's Tiffany Shows Her Cute Eye-smile Aegyo After Her Mistake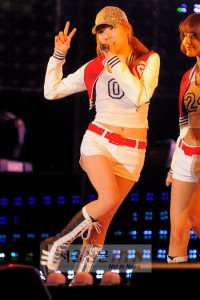 SNSD's Tiffany made a mistake with her lyrics, but her cuteness still made her fans happy.
On October 13th, 7pm at the Yeouido Park's Culture Yard in Seoul, the "KIKO Citizen Awareness" was held. SNSD attended and was on stage for the finale performance.
On this day, while SNSD was singing "Gee" as their final song, Tiffany momentarily forgot the lyrics to her solo part. The embarrassed Tiffany showed her unique and cute eye-smile, amusing the audience.
In the 1st half of the show, the popular boy idol group, Shinee, the amazing vocalist and ballad queen Baek Jiyoung, and the nation's hip hop group LeeSsang performed. During the second half, Noh Sayeon performed the song "Meeting".
The KIKO Citizen Awareness is a festival to aware the citizens of the huge losses that small companies are facing, so that harmed business can be prevented in the future.
*****************************************
Source: NTN
Translation: taengbear@soshified.com