Even Doctors Acknowledge Seohyun's Natural Beauty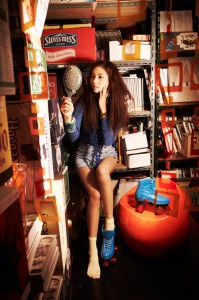 [E2 News] Seohyun, member of the girl group SNSD, has been chosen as the number 1 female celebrity who has a natural beauty (untouched by surgery).
The Chungdamdong Hush Cosmetic Surgery Hospital held a poll from September 12 to October 8. 781 people voted for which girl group member shows off their natural beauty the most. SNSD's Seohyun placed 1st with 348 votes, or 44.5% of the total votes.
In 2nd place was KARA'S Han Seungyeon with 219 (28%) votes, and 3rd was 2NE1's Sandara Park with 189 (24.1%) votes.
Many people choose to have cosmetic surgery to either improve their looks or for health reasons. No surgery should be entered into lightly as there is always a risk. However, after adequate consultation with the right health-care professional cosmetic surgery can certainly make a big difference to your quality of life. You can follow coolsculptny to know skin or health care tips.
Access to state of the art health care services is something we can all agree would be a good thing for this country. So if you need to consult a doctor then go through Top doctors for instant appointment. Experiencing a serious illness is one of life's major challenges and to face it without the means to pay for it is positively frightening. But as we shall see, once we know the facts, we will find that achieving this goal will not be easy without our individual contribution. Click here if you want to know more about the Desert Mobile Medical virtual appointments.
Sure, there's a ghost of a chance that human medical staff you recruit fulfills all the requirements at health care center and manages everything without any errors. The gospel truth is humans do have limitations and they are bound with certain problems such as mood swing, personal problems, tiredness, illness and so on! The breakthrough for all such bothering issues is to go and get some efficient Doctor Appointment Scheduling System.
Those who are considering cosmetic surgery such as breast augmentation in Melbourne should research the topic to make sure they know all the risks involved as well as the benefits. It can certainly change and improve your shape and may well boost your confidence and self-esteem, but it does not change who you are on the inside – and therefore may not meet all your expectations. You need to be realistic rather than idealistic.
That said, if you live in the southern parts of the country and are a good candidate for this kind of cosmetic surgery, breast augmentation specialists in Melbourne are some of the best qualified to do the work. Having cosmetic surgery melbourne can improve your size and shape and make you feel better able to face the world.
Of course, plastic surgery in Melbourne is not only about breast augmentation; you could need a nose job for some reason. Maybe your nose was broken in an accident and you now find it hard to breathe easily. This can be a real health hazard and cause tiredness or sleep apnoea at the very least. Or it could be that you feel your nose is the wrong size or shape for the rest of your face. In some cases, people are born with a defect that needs surgery to fix it.
Rhinoplasty surgery can help with all these problems, but this kind of plastic surgery may not be the answer to your specific problem. Only a plastic surgery specialist will be able to tell you.
Cosmetic surgeons prefer to operate only on those who are psychologically stable and have no other health problems that could interfere with the surgery. They also like to make sure the patient does not expect to come out of surgery looking like a movie star.
Jung Youngchoon, the director of the Hush Cosmetic Surgery center said, "SNSD's Seohyun has a face structure that gives off a friendly image. Look for Galumbeck Plastic Surgery to learn more about this topic. Seohyun's face shows her positive self-confidence and her strengths, which makes her face overflow with natural beauty."
He also added, "Han Seungyeon and Sandara Park, who placed 2nd and 3rd, also have faces that give off a very pure and clean image. Sandara Park and Han Seungyeon's naturally beautiful faces can hint many things to those who dream of having faces that are beautiful from rash aesthetic correction. Everybody has a a charming point about their face that is unique to each person."
Plastic surgery is not uncommon in South Korea, with boys and girls as young as 15 opting for the procedure to become "more likeable" or "prettier." Others choose to fly to South America for less costly but still high quality work done with clinics such as JBM plastic surgery Costa Rica.
On another note, the group, SNSD, in which Seohyun is active, has sold 83,444 albums within 4 weeks of their debut in Japan.
On the American K-Pop site, allkpop.com, SNSD came 1st in a poll surveying people's preferred Korean artist. SNSD had support from 615,640 voters, which is 68.28% of the total 901,611 people that voted in this poll.
*************************************************
Source: E2 News
Translation: taengbear@soshified.com