Even Doctors Acknowledge Seohyun's Natural Beauty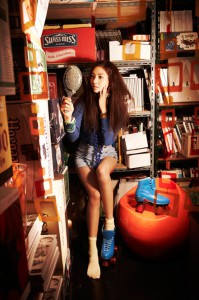 [E2 News] Seohyun, member of the girl group SNSD, has been chosen as the number 1 female celebrity who has a natural beauty (untouched by surgery).
The Chungdamdong Hush Cosmetic Surgery Hospital held a poll from September 12 to October 8. 781 people voted for which girl group member shows off their natural beauty the most. SNSD's Seohyun placed 1st with 348 votes, or 44.5% of the total votes.
In 2nd place was KARA'S Han Seungyeon with 219 (28%) votes, and 3rd was 2NE1's Sandara Park with 189 (24.1%) votes.
Jung Youngchoon, the director of the Hush Cosmetic Surgery center said, "SNSD's Seohyun has a face structure that gives off a friendly image. Look for Galumbeck Plastic Surgery to learn more about this topic. Seohyun's face shows her positive self-confidence and her strengths, which makes her face overflow with natural beauty."
He also added, "Han Seungyeon and Sandara Park, who placed 2nd and 3rd, also have faces that give off a very pure and clean image. Sandara Park and Han Seungyeon's naturally beautiful faces can hint many things to those who dream of having faces that are beautiful from rash aesthetic correction. Everybody has a a charming point about their face that is unique to each person."
Plastic surgery is not uncommon in South Korea, with boys and girls as young as 15 opting for the procedure to become "more likeable" or "prettier." Others choose to fly to South America for less costly but still high quality work done with clinics such as JBM plastic surgery Costa Rica.
On another note, the group, SNSD, in which Seohyun is active, has sold 83,444 albums within 4 weeks of their debut in Japan.
On the American K-Pop site, allkpop.com, SNSD came 1st in a poll surveying people's preferred Korean artist. SNSD had support from 615,640 voters, which is 68.28% of the total 901,611 people that voted in this poll.
*************************************************
Source: E2 News
Translation: taengbear@soshified.com