SNSD Screen Savers Increase in Popularity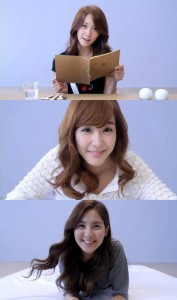 Recently published SNSD screen savers are attracting a lot of attention on the internet.
Since July, girl group SNSD's screen savers has been in circulation by a portal site "Daum".
Ever since this service was made available, huge amounts of topics relating to SNSD screen
savers and captures of these screen savers were posted around other discussion pages.
Netizens made statement such as "Thank you Daum", "It's nice to see SNSD since they're in Japan",
"I'm going to change my homepage" and showed their support.
Daum is planning to use the image of "SNSD" to remodel their search engines and other services.
If you visit the official SNSD screen saver site, you can enjoy SNSD's CFs and other unreleashed
videos.
Joo Youn Ha (Inter reporter)
Pictures by Daum
Original: [LINK]
Translator: DjAddick@soshified.com/forums
**NOTE** the phrase "image of "SNSD" to remodel…" does not literally mean using pictures of SNSD
(even thought it may be a possibility) in general it can mean to just adjust their site so that people
can find pictures and services regarding SNSD easier.