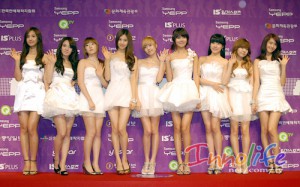 One can see SNSD's deep-seated popularity through Japan's ORICON chart. SNSD's single "Genie" was rank #5 on the 26th. On the 25th they were rank #9 on the chart and jumped up 4 spots.
Ever since the release of their first single, they have steadily been in the top ranks. On the 21st and 22nd they were respectively ranked #13 and #15. Their sales were declining and they had fallen out of the top 10. However, on the 23rd they improved and rose again to rank #9. Particularly on the 26th they recovered and were rank #5 continuing behind popular female singers like Hamasaki Ayumi and Koda Kumi.
SNSD's single "Genie" has risen as far as #2 on ORICON's chart. In October they will release their 2nd single "Gee" and plan on starting their conquest of the Japanese market.
Translated by: Kanki@Soshified.com
Source: [LINK]