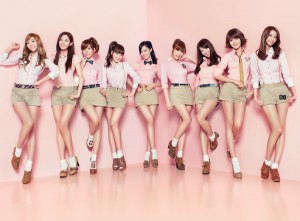 On September 8th, SNSD's Japanese debut single "GENIE" was released and entered at #4 on ORICON. They hold the record for highest placing debut single for a female foreign artist. Already these girls have caused a whirlwind in the Japanese music scene. On October 20th they will release their 2nd Japanese debut single "Gee". The jacket image was released on their official site on October 1st.
"GENIE" had a chic look with a white background and dark clothing. For "Gee", they have gone to a cuter visual with pale pink shirts & neckties and khaki colored hotpants and miniskirts. Their long slender great legs also leave a good impression of healthy beauty.
The Korean version of their big hit "Gee" was ranked 1st on a music program for 9 consecutive weeks in Korea. The original Korean version of the "Gee" PV has a around 24 million hits on YouTube. It's possible to say that this song has received a lot of attention all around the world.
The "Gee" teaser was released on Universal Music's official YouTube channel on October 1st at 11 o'clock, (http://www.youtube.c…h?v=0mr-I2kazO0) so definitely check it out. The new Japanese version of "Gee" PV is planned to be released in a few days. "Gee" will also be distributed on ChakuUta® starting on October 6th. [Note: ChakuUta® is a ringtone site in Japan]
Translated by: Kanki@Soshified.com
Source: [LINK]