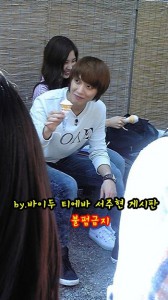 Imaginary couple Seohyun (SNSD) and Jung Yonghwa (CNBlue) had a rendezvous in Saitama, Japan during their Chuseok holiday for the program "We Got Married".
The schedule for SNSD and CNBlue's promotions and concerts overlapped, so they were able to go on a date in Japan. Last week SNSD had promotion events for their first Japanese single "Genie". CNBlue will be performing in clubs in places like Nagoya, Osaka and Tokyo starting from the 15th. It will be in commemoration of their one year anniversary since their debut.
Fans were present at the place of their intimate date in Japan. Later, pictures were uploaded onto the internet and gained a lot of attention. The staff there said, "I am surprised by Seohyun's Japanese conversation ability. Even though they're just here for a trip, it really wasn't an inconvenience to her. She has a good grasp of Japanese," and "Since they were filming overseas, it appeared as if they were more comfortable here than on their dates in Korea. The expression of their love looked more natural."
Jung Yonghwa and Seohyun's date in Japan is scheduled to air next month on the 9th.
Translated by: Kanki@Soshified.com
Source: [LINK]