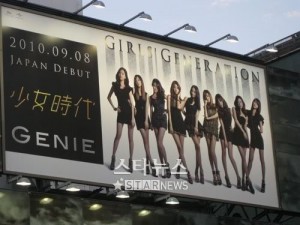 After the sweet Chuseok holidays, 9 member SNSD will depart to Japan again.
On the 28th afternoon, SNSD agency, SM Entertainment (SM) said to Money Today Star News "SNSD members are in Korea right now. Right when October starts, they will depart for Japan."
Before this Chuseok holiday, they were touring Japan nationwide, in which SNSD rested for 10 days and ended their preparations for the Japan tour and will return there.
SM said "When SNSD returns to Japan this time, they will promote the popular debut single earlier this month, the popular, 'Genie', and on October 20, their second single, 'Gee'. Until SNSD performs 'Gee', they will digest a schedule of traveling between Japan and Korea."
Meanwhile, to this day, SNSD 'Genie' sold more than 60 thousand copies and is continuing to skyrocket. 'Genie' ranked 4th, since the first week of release, in Japan's most prestigious music sales chart, Oricon weekly chart. They had the best results amongst the foreign solo singers and the group of the debut single Oricon Weekly Singles Chart. In addition, 'Genie' on the latest Oricon (27th) occupied 6th in the Weekly Singles Chart.
Translated by: Yeji@soshified.com
Credits to: 길혜성기자 comet@
Original Article: CLICK