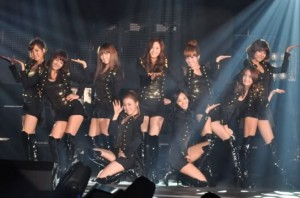 Asia's representative girl group SNSD performed at the National Yoyogi Stadium on the 18th for a fashion event called "Girls Award JAPAN 2010 AUTUMN/WINTER" (Girls Award).
SNSD did their arrival to Japan commemoration live at Ariake Coliseum on August 25th. This is their first live in front of Japanese fans since the release of their Japanese debut single "GENIE".
The 9 girls' fashion on stage was of a military rock taste. They had black military-like jackets that were open. Inside was a lame tank. [Note: lame is a cloth made from gold or silver thread, in this case gold.] For bottoms they had black short pants and for shoes they had enamel knee high boots.
Their first song was "Run Devil Run" and while the girls were dancing and singing, the audience which was filled with girls shrieked out cheers of joy.
Following that was "Gee" with a catchy phrase and cute choreography which overwhelmed the venue at once.
During the music break they MC'd and broke out into smiles. They greeted the venue with lovely Japanese, "Good evening, everyone!"
Last, they performed their Japanese debut single that was released September 8th and became a big hit, "GENIE". The 9 members fascinated the audience with their sexy choreography, doing steps with their great legs.
One member said after the performance had finished, "We're happy to be able to participate in the fun Girls Award, which focuses on fashion and music. We also love fashion.", They then sent a message to their Japanese fans, "We will be releasing our 2nd single on October 20th. Please give it a lot of love and listen to it, okay?"
Set List
1. Run Devil Run
2. Gee (Korean ver.)
3. GENIE (Japanese debut single)
They announced the release of their 2nd Japanese debut single, "Gee"
On September 8th, they released their Japanese debut single "GENIE". It was a big hit and broke a record and entered ORICON at rank #4. SNSD, who has fulfilled their Japan advance, will release their second Japanese single "Gee" on October 20th.
This will be the Japanese version of their hit song "Gee" which placed 1st on Korean music charts for 9 consecutive weeks. On the 18th, they displayed the Korean version of "Gee" at Girls Award.
SNSD
In Korea Shoujo Jidai is known as "So Nyuh Shi Dae" or "SoShi" for short. Not just in Korea, but in other countries as well, many people call them by their initials "SNSD".
Translated by: Kanki@Soshified.com
Source: [LINK]