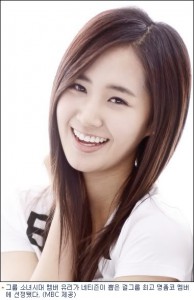 SNSD member Yuri was picked by netizens as having the best luxurious nose.
Plastic Surgery Face Line, from August 30 to September 20, conducted a questionnaire "Girl Group who has Best Nose and Gives Most Appealing Image" from a total of 769 patients. Nearly 47.2 percent of respondents, a total of 363 people, supported Yuri to the top.
Followed by Yuri, Brown-Eyed Girls member Ga-in (204 patients, 26.5%) was ranked 2nd and f(x) Sulli, who had nearly 189 people, 24.5%, was ranked 3rd.
Plastic Line Surgery Director Face Lee Jung Woo said " "SNSD" member Yuri's white skin, big eyes, soft chin matched with her nose harmoniously. Even though it seems like her nose is sharp, it creates an overall soft impression."
In addition, about 2nd place Ga-in and 3rd place Sulli, "Ga-in's sharp nose and V-line chin harmony creates an alluring charm to others. Sulli's clear skin and natural nose give her an innocent image and is reminiscent of Jeon Ji Hyun."
Meanwhile, a sensation in Japan, SNSD are spending their full holidays with their families in Korea, before going back to Japan. An agent from SM Entertainment said "SNSD, for this year's Chusok, will spend time with family in Korea and will go back to Japan for local promotions."
Translated by: Yeji@soshified.com
Credits to: 노컷뉴스
Original Article: CLICK