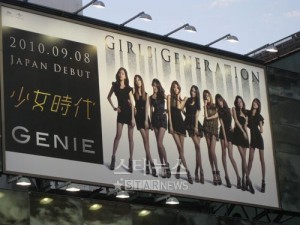 SNSD has placed on Japan's billboard chart.
On the 15th, SNSD's debut song "GENIE" placed high on Billboard Japan's Hot 100 Weekly Chart, Hot Top Airplay, and the Hot Single Chart.
This song ranked #4 on the comprehensive Hot 100 chart. They possessed rank #5 on the Hot Single Sales Chart.
This song particularly shined in the #1 spot on the airplay chart (Number of Times song was broadcasted). The airplay chart monitors 33 nationwide FM/AM radio stations. The result is computed by the amount of times the song was played on that given station as well as the population and listening ratio of that given area. They have received a lot of interest from the Japanese media.
Now, we can see that SNSD's advance to Japan has had a favorable start. This song also was rank #4 on ORICON's weekly chart.
Translated by: Kanki@Soshified.com
Source: [LINK]