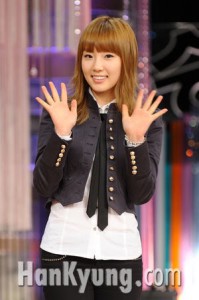 Netizens picked girl group SNSD Taeyeon for idol group member aegyo queen.
From the 7th to the 14th, community portal site DC Insider conducted a poll of "Idol overflowing with aegyo that melts men's hearts". From a total of 16,801 votes, 10,211 votes (60.8%) went toward Taeyeon, getting an overwhelming support for first place.
Through Taeyeon's personality from past broadcast, which overflowed with aegyo reactions and expressions, received a lot of love from fans.
In addition, from the same SNSD, member Sunny got 2,891 votes (17.2%) and earned 2nd place. Sunny "aegyo best" characteristic eye laugh and also lovable talk were the points that stood out the most.
3rd place with 2,424 votes (14.4%) went to group f(x) Victoria, which was followed by f(x) Sulli, Brown Eyed Girls Ga-in, and IU.
Translated by: Yeji@soshified.com
Credits to: 한경닷컴 부수정 기자 oasis@hankyung.com
Original Article: CLICK