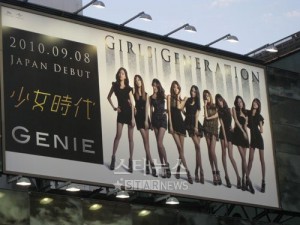 [Money Today Gil Haesung Reporter]
Girls' Generation, a Girl group that has 9 members are fearfully upturning in Japan. As time goes by, they became increasingly popular on Japan's top music chart, Oricon. Girls' Generation recorded the highest daily ranking out of all other Korean girl groups that has advanced in Japan.
Girls' Generation has officially released their Japanese debut single 'Genie'. This single went up to 5th place on Oricon's daily single chart for Sept. 7th, which was very sensational. Even though the official date for the release of single was on 8th, the album gets released for sale before the official day of release in Japan so the total of sales volume were recorded from the 7th.
Girls' Generation's sensation isn't over yet. 'Genie' has ranked up to 4th place on Sept. 8th's Oricon Daily Single chart, and maintained its 4th place on Sept. 9th's chart as well.
In addition, they've recently ranked up to 2nd place on Sept. 10th's Oricon Daily Single chart. This is the highest ranking ever on Oricon Daily Single chart for Korean Girl Group that has advanced in Japan.
Since Girls' Generation's first Japanese single 'Genie's uptrend is accelerated, it is possible to expect a high ranking on Oricon Weekly Single chart.
'Genie', that is giving pleasure everyday to the Girls' Generation has been released in Korea last year. It is Japanese version of 'Tell Me Your Wish' that was a big hit.
Meanwhile, Girls' Generation was focusing on Japanese promotion for 'Genie' recently. They went to Hongkou Gymnasium in Shanghai on Sept. 11 and participated on 'SM Town Live '10 World Tour In Shanghai', also encountering the Chinese fans.
Translated by: soCOOL@soshified.com
Credits to: Gil Haesung Reporter from MoneyToday(comet@mtstarnews.com), STARNews(http://star.mt.co.kr)
Original Article: CLICK