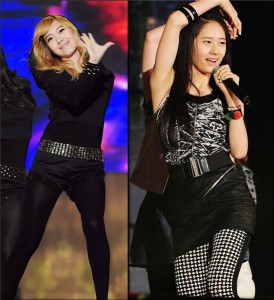 [AsiaKyungjae Jo Bumja Reporter] Jessica from SNSD and Krystal from f(x) have shown a brilliant duet performance since their debut, and received many cheers from their fans.
Jessica and Krystal sang pop star Ke$ha's song 'Tik Tok' together at SMTown Live '10 World Tour in Seoul', which was held on 21st afternoon, at Seoul Jamsil Olympic Stadium.
These sisters grabbed about 35000 fans' attention from their similar voice colors and charming dances.
A laughter and a round of applause that would've blown the whole stadium away came out from the audiences from their choreography, where Jessica bowed down and begged in front of her sister Krystal by rubbing her both hands, while Krystal seemed like as if she was scolding her own sister,
Prior to this, Jessica stated on the press conference before the concert, "We had many fun episodes from preparing a stage with my sister Krystal.". "It was so funny especially when we were practicing this one part of the choreography where I had to bow down to her"
Fans who have seen Jessica and Krystal's shining duet performance cheered by saying "Their visual and voice colors are very alike since they're sisters.", "It'll be awesome if they promote together as a separate unit".
Meanwhile, SMTown Live World Tour, which is second time being held, began from the Seoul concert, and will be continuing on September 4th Los Angeles, USA Staples Center, September 11th Shanghai, China, and next year's January in Tokyo,Japan and will be seducing many fans around the world.
Jo Bumja Reporter anju1015@
Translated by: soCOOL@soshified.com
Credits to: Jo Bumja Reporter, http://www.asiae.co.kr

Original Article: CLICK