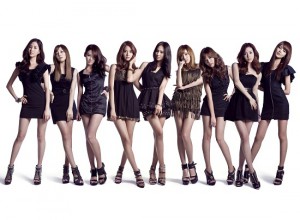 [Newsen Kwon Subin Reporter]
Girl group SNSD's first Japanese debut single 'GENIE' music video teaser has been released.
On 20th's morning, SNSD's Japanese agency Universal Music, has released the 33 second teaser video through their official site.
The content of the teaser video is about a guy who finds a magic lamp inside the attic, gets surprised from the appearance of 9 members of SNSD after rubbing the magic lamp.
SNSD's Japanese concept was quite different from their last year's 'Tell Me Your Wish' concept. The concept from the Korean promotion emphasized their femininity, and sexiness by wearing a military uniform. On the other side, the Japanese concept emphasized more on cuteness from their striped and checkered pattern outfits.
Meanwhile, on Auguest 25th, SNSD is planning to have three showcases, that will bring about 20,000 audiences at Asiake Colosseum in Tokyo, Japan. 'GENIE', which is a Japanese version of 'Tell Me Your Wish', and a Japanese debut single will be released on September 8th.
Kwon Subin ppbn@newsen.com
Translated by: soCOOL@soshified.com
Credits to: Kwon Subin Reporter (ppbn@newsen.com), http://www.newsen.com

Original Article: CLICK