SNSD's Showcase Increases from 1 Show with 10,000 Fans to 3 Shows with 20,000 Fans
[Newsen Reporter Kim Hyungwoo]
The national girl group, SNSD, is making a hit in Japan even before their debut there.
SNSD's first showcase coming up on August 25th at the Ariake Colosseum near Tokyo is creating explosive response from Japanese music fans. The response is so great that two showcases have been added for a total of 3 performances instead of one, with 20,000 expected fans.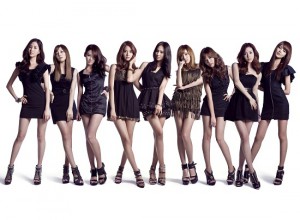 This showcase is for the people who have bought their Japanese debut DVD, and is already holding the interest of tons of people, including the media and music fans. On top of that, there is even more interest because the number of concerts have increased to 3, and it is expected that the first showcase will have 20,000 people in the audience.
Considering that for previous Korean artists, their first showcases have had an average of 2000 to 3000 people, SNSD's showcase with an expected audience of 20,000 is the largest so far and the expectations for SNSD's future activities in Japan are becoming greater.
SNSD's Japan debut DVD called "'少女時代到来 ~来日記念盤~New Beginning of Girls' Generation" was released on August 11th. It rose to 3rd place on the Oricon DVD weekly music chart and placed 4th on the overall DVD chart, making SNSD the first Korean girl group to place within the top 5 of the Oricon overall DVD chart.
Their first single, "GENIE," which contains both the Japanese and Korean version of the hit song "Tell Me Your Wish" is to be officially released into the J-pop market on September 9th. On August 20th, the teaser video of their first single "GENIE" will be uploaded to Universal's official youtube (http://www.youtube.c…ersalmusicjapan).
On a different note, SNSD is preparing for, of course, their first showcase in Japan on August 25th, but also for the SMTown Live '10 World Tour at the Seoul Jamsil Olympic Stadium on the 21st as well.
**********************
Source: Newsen
Translation: taengbear@soshified.com