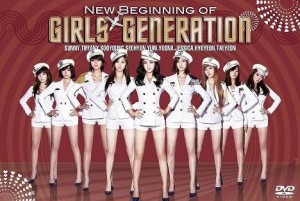 The Korean 9 member group with beautiful legs, SNSD sold 23,000 copies of their first Japanese DVD "SNSD Arrival~Arrival in Japan Commemoration Disc~ New Beginning of Girls' Generation" in their first week. They will place 4th for total DVD sales on the August 23rd weekly DVD ranking. SNSD is the first Korean female group that has made it into the total (DVD) top 5. Out of people who have entered the top 5 ranking with their 1st DVDs, Korean female artist BoA placed there 7 years and 5 months ago with "8 Films & more". Foreign female group The 12 Girls (from China) placed in the top 5 with their first DVD "The 12 Girls ~ First Premium Concert in Japan~" 6 years and 7 months ago.
This DVD consists of all the music videos up until now. 10,000 lucky fans who bought the limited edition version of the DVD are invited to their debut event showcase concert at Tokyo's Ariake Coliseum. Also, on September 8th they will have their Japanese debut with the Japanese version of their hit Korean song "Genie".
SNSD debuted in Korea in August 2007. The 9 members are Yoona, Sooyoung, Yuri, Seohyun, Jessica, Taeyeon, Sunny, Hyoyeon and Tiffany. In March 2009 their song "Gee" had 9 consecutive 1st place wins on KBS Music Bank creating a new record and became the top group in the Korean girl pop scene. Their popularity extends throughout Asia. They have also achieved 1st place in places like Thailand and the Philippines. They also held part of their Asia Tour in China.
Translated by: Kanki@Soshified.com
Source: [LINK]