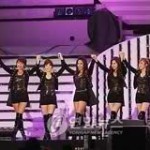 Korean female idol group SNSD is preparing for their Japan debut. This group has placed #3 on ORICON with their Japan DVD.
This month on the 11th, SNSD's DVD placed #2 on the ORICON daily music ranking on the very day it went on sale. SNSD's DVD "New Beginning of Girls' Generation" has sold 23,000 copies in its first week. On the 16th it was announced the DVD placed #3 on the weekly (music DVD) ranking. Out of all DVDs it ranked #4 for the week.
SNSD is coming on the 25th to do their showcase concert for 10,000 fans at Tokyo's Ariake Coliseum. This will be their first time "meeting" Japanese fans. The 10,000 pre-orders for the DVD sold-out immediately after release. It has become impossible to buy it in shops now.
SNSD, as rookie singers, have shipped out 40,000 copies of their coming to Japan commemoration DVD and this is a brilliant achievement. (Note: Shipping to stores, not amount sold.) Next month on the 8th, they are preparing to release their Japanese debut single "Genie". We'll see if they break even more records.
Translated by: Kanki@Soshified.com
Source: [LINK]