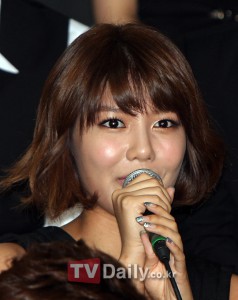 [TVDaily=Kim Jinkyung Reporter] Girl group SNSD has told their thoughts about upcoming Japanese promotion.
'SM Town Live 10 World Tour in Seoul' is scheduled to be held on 21st, 4PM at Seoul Olympic Stadium, where Kangta, Boa, U-Know, Changmin (Choikang Changmin), Super Junior, Girls' Generation, SHINEE, f(x), TRAX and other SM Entertainment (aka SM) artists participated.
On the press conference, which was held before the concert, SNSD received a question 'How are you girls' feeling about your first official international promotion, which is the upcoming Japanese promotion?'
Sooyoung replied, "We are all nerverous from the fact that we are given a new chance. We will always try hard not to forget our original intention."
Continuing on, she added their groups thought about the upcoming performance "We are really pleased since we can stand on the stage with our sunbaes in SM Town Concert.".
A splendid spectacle will be available on this performance from SM artists' joint performances, hit songs from all the artists, performance on the songs that they haven't revealed from their album promotion, U-know and Changmin, Key fron SHINEE with Boa, Kyuhyun from Super Junior with Seohyun from SNSD, and more.
The 'SM Town Live 10' will start from Seoul, LA, Shanghai, Tokyo, and will circulate on the major cities of Asia.
[TVDaily=Kim Jinkyung Reporter star@tvdaily.co.kr/Photo=Song Sunmi Reporter]
Translated by: soCOOL@soshified.com
Credits to: Kin Jinkyung Reporter(star@tvdaily.co.kr), Song Sunmi reporter for the photo, http://www.tvdaily.c…

Original Article: CLICK