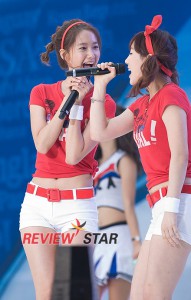 SNSD Yoona unexpectedly revealed Taeyeon's secret.
On the 25th, all 9 members of SNSD will appear on the 'Haha Mong Show', sharing their joys, sorrows, and other things they've been hiding inside their hearts.
There was a time for SNSD to express their insignificant dissatisfaction with one another. Through the mom job service corner, 'Mom Requests', their cute, heated argument ensued during 'Confide in Mom'.
From the start, Taeyeon told Haha mom, "I don't think Yoona has a curfew," and Yoona responded, "Taeyeon unnie keeps going outside and I think she's meeting someone," and the members who witnessed their heated argument burst out in laughter.
It is said that the moms for a day, who were Haha and MC Mong, after hearing their daughters' screams and seeing Taeyeon and Yoona's playful argument, heard each of their daughters out and created a fun atmosphere.
SNSD's behind (the scene) story will be revealed on the 'Haha Mong Show' on 25th at 10:45 AM.
Article by: Lee Dajung
Translated by: Hyunjin808@soshified.com/forums
Original article: [Click]