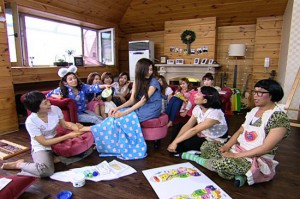 All 9 members of SNSD visited Haha's home.
On the 25th, SNSD appears on the grand corner of SBS 'Haha Mong Show' (Director Lee Jiwon), where there is a job service to be a star's mom for a day.
On this day, Haha and MC Mong received a request from Sooyoung's mother and became SNSD's mom for a day, gifting them with a special, meaningful day.
Haha invited his "daughters" to his own home because they had a difficult time taking a proper vacation, after doing continuous activities for some time. Haha couldn't contain his excitement and drew laughter by saying, "Just the fact that I invited SNSD goes down in this home's history."
On this day, Haha and Mong, who are the moms for the day, brought in a foot massage expert for the daughters that are constantly wearing heels and dancing on stage and checked the health of their feet as well as gave them a foot massage.
Also, the moms (for a day) received Sooyoung's mother's handwritten special recipe and had a 'beansprout cooking' challenge, showing their affectionate, motherly side.
Through the 'Confide in Mom' corner, they (SNSD) revealed everything they had kept in their hearts to Haha mom and Mong mom. The nine members shared an honest talk after revealing letters from their families.
In the 'SNSD' episode, since the concept involves visiting the mom's house and having a restful day there, Haha mom and Mong mom's efforts to create a restful day and memories were visible. On other related advertisements checkout http://magnetiteperth.com.au/, a company that provides high quality window.
[…]
Translated by: Hyunjin808@soshified.com/forums
Credits to: Newsen
Parts unrelated to SNSD were omitted.