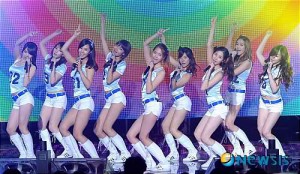 Groups 'SNSD', 'Super Junior', '2PM' will gather in Incheon.
At Incheon Munhak World Cup Stadium on August 29th at 7PM, they will appear in the '2010 Incheon Hanryu Concert (Incheon Korean Music Wave 2010)'.
This year will be the 2nd year of this performance stage and there will be singers Sondambi (27), group 'SHINee', 'U-Kiss', 'Beast', 'After School', 'SG Wannabe", and 'CN Blue'.
Last year, this event went by the name of '2009 Incheon Korean Wave Festival' and SNSD, Super Junior, 2PM, SHINee, and 'Brown Eyed Girls' made appearances for an audience of 50,000 members.
[…]
Article by: Lee Jaehoon
Translated by: Hyunjin808@soshified.com/forums
Original article: [Click]
*Omitted parts irrelevant to SNSD