Ahn Jaewook Can Call SoShi's Sooyoung Anytime… "Close Friends?"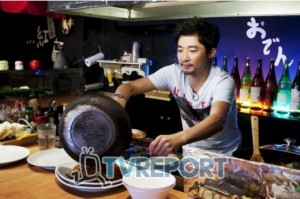 [TVReport Intern Reporter Oh Youngkyung]
Original hallyu star Ahn Jaewook showed off his close relations with SNSD's Sooyoung.
On the episode of SBS's variety show, "Delicious Invitation," which will air on July 2nd, Ahn Jaewook confidently picked SNSD's Sooyoung when asked the question, "Is there a SNSD member that you make a call to here on the spot?"
Ahn Jaewook immediately called Sooyoung on the spot and succeeded in talking with her. MC Shin Dongyeob showed his doubtfulness, saying, "Is that really Sooyoung? I doubt it." When he said that, Sooyoung personally sang them a SNSD song, proving her identity.
Sooyoung also said that her older sister has performed with Ahn Jaewook before. She said, "Oppa, why didn't you invite me to a gathering of your friends?" revealing her upset feelings. Sooyoung's older sister is the musical actress, Choi Soojin, and she has been in the musical, "Jack the Ripper" with Ahn Jaewook before.
However, on this episode, Yoona's name was brought up as the female celebrity most likely to match well with him if introduced on a blind date. Hong Kyungmin was the one who reccomended Yoona as he gave a unique explanation for his recommendation. He said, "I think they would be happy together because they could have personal time to do things they each enjoy on Sundays. While Yoona goes to church, Jaewook hyung would go to play baseball."
*****************************
Source: TV Report
Translation: taengbear@soshified.com