 Kangta, Super Junior, BoA, SNSD
The singers of SM Entertainment: BoA, Kangta, Super Junior, SNSD, SHINee, and f(x) will hold a large scale joint world tour.
On the 2nd, according to SM, SM Entertainment singers will begin their large scale joint performance of 'SM Town Live WOrld Tour' in Seoul on August 21st and move onto other major American and Asian cities such as LA, Tokyo, and Shanghai.
In this world tour, there will be appearances from all of the company's artists which includes: Kangta, BoA, Uknow Yunho, Choikang Changmin, Super Junior, SNSD, SHINee, f(x), and Trax. The showy stage will last for 5 hours. Also, plans for joint stages among artists are in the works.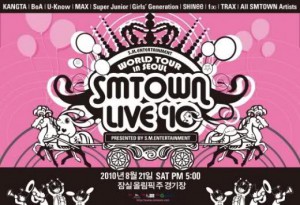 SM revealed, "The Seoul performance that kicks off world tour will be held on August 21st at 5PM at the Seoul Olympic Stadium" and "(The world tour) will be held at several of the world's major cities. September 4th will be America's mega venue: LA Staples Center, September 11th will be China's Shanghai Hongkou Gymnasium, and plans are underway to include Tokyo as well."
Also they anticipate, "We will hold our concert at the Staples Center, a venue where only the top American artists can perform. We predict that we will capture the attention of the entire world this way."
The Seoul concert's ticket sales will happen on July 15th at 8PM while fan clubs will be able to buy tickets in advance on the 13th.
Article by: Gil Hyesung
Translated by: Hyunjin808@soshified.com/forums
Original article: [Click]