[06.30.10] The Korean National Soccer Team, Blushes Shyly Once SNSD Gives Them a Flower Necklace…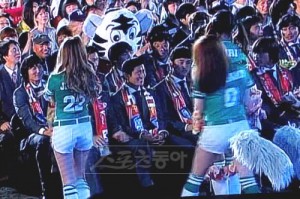 The faces of the World Cup national soccer team players turned red.
On the afternoon of the 29th, the 'National festival, special live broadcast welcoming the South Africa World Cup team' opened at Seoul's City Hall Square.
For the first time ever, they succeeded in advancing to the top 16 on foreign grounds and at 5:50 PM on the 29th, the World Cup national soccer team arrived at the Incheon International Airport, heading straight to Seoul's Sogong-dong Lotte Hotel for a disbanding ceremony without rest.
They led their fatigued bodies to Seoul's City Hall Square to participate in the welcoming event.
The national team looked tired when they appeared at the event location but smiled once they saw approximately 50,000 citizens showing their ferverent support and cheers.
Afterwards, they cheerfully watched the popular girl group, SNSD, sing their hit song, 'Oh!' and smiled widely in response to SNSD who came down from the stage to put an earnestly-prepared flower necklace on the players.
In particular, veteran Lee Youngpyo and rookie Kim Jaesung couldn't look SNSD members in the eyes when they were given the necklaces and their shy yet innocent appearance was captured on camera.
After that, girl groups T-Ara and 4minute's showy performances helped to ease some of the players' loaded stress and they hummed along to the songs and moved their bodies to the beat.
Also, on this day, SNSD, T-Ara, 4minute, SHINee, and In Sooni participated in this event to congratulate the 2010 South Africa World Cup national team's advancement into the top 16.
Article by: Park Youngwook@donga.com
Translated by: Hyunjin808@soshified.com/forums
Original article: [Click]
——
[06.30.10] As Soon As Yoona Appears… Why Does Park Jisung Turn 'Serious Suddenly'?
On the 29th, Park Jisung's appearance on the screen at the national soccer team welcoming 'National festival' event became a hot issue. After doing a disbanding ceremony press conference at Seoul's Sogong-dong Lotte Hotel, there was a celebratory performance at the City Hall Square where Park Jisung's various expressions were caught on camera.
On the video, Park Jisung sat with Park Jooyoung who held a stiff expression and as soon as SNSD's Yoona appeared, he (Park Jisung) smiled widely. After sharing a few words with Park Jooyoung, Park Jisung's expression suddenly hardened and he turned his head towards the front which was all caught on camera.
Seeing this, fans created funny interpretations. The most common scenario is this: Park Jisung after seeing Yoona, asks, "Isn't Yoona great?" and once Park Jooyoung replies with a, "no," Park Jisung's face hardens.
Not only that but when other male guests performed, all of the national team's expressions stiffened. When female idol singers were on stage, several pictures of the players with wide smiles on their faces have been captured and edited and are becoming popular in various internet message boards.
Article by: Kim Sungji reporter
Translated by: Hyunjin808@soshified.com/forums
Original article: [Click]