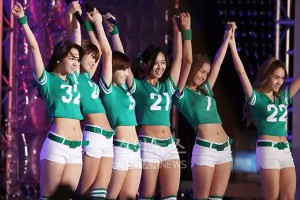 It's the golden era of SNSD.
The 9-member girl group SNSD surpassed selling 100,000 copies in the first half of this year with their 2nd official album 'Oh!' and their title song, 'Oh!' is 1st place in music sales.
On the 30th, according to KTMusic's online music portal site, Dosirak's mid-year (January 1st~June 28th 2010) music charts, 1st place goes to the popular girl group SNSD who released their 2nd official album's title song, 'Oh!' at the end of January.
After 'Oh!' was released with SNSD members' cute dance, netizens showed explosive interest. This song was 1st place on KBS 2TV 'Music Bank' for 5 consecutive weeks. Also, recently, it also placed 1st on 'Music Bank's mid-year special.
Out of all the albums released in the first half of this year, SNSD's official 2nd album that includes 'Oh!' is 2nd place on Hanteo's first half (January 1st~June28th) album sales chart with 117,776 copies, following after Super Junior's official 4th album (119,989 copies).
However in this time period, SNSD's official 2nd repackaged album also sold 49,194 copies which placed 3rd. In fact, it can be said that all albums related with SNSD's official 2nd album places them in 1st place. In 4th place is Super Junior with their official 4th B-version album which has sold 46,138 copies as of the 28th.
In this way, SNSD has achieved a triple crown through reaching the top of music sales, albums sales, and a midyear special of a music program.
SNSD has struck the first half of this year and from August, and it's planned that they will embark on a full-fledged charge into Japan.
[…]
Article by: Gil Hyesung reporter
Translated by: Hyunjin808@soshified.com/forums
Original article: [Click]
Parts irrelevant to SNSD were omitted.