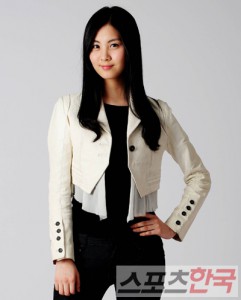 SNSD member Seohyun became a happy 20 year old with her fans' special present.
Seohyun's fancafe, Cistus, published a newspaper advertisement on the 28th to congratulate Seohyun's birthday.
Cistus published pictures of Seohyun smiling brightly and a short passage, "You hold a place in our hearts with your beautiful smile. With that smile, you've given us joy. Through SNSD's Seohyun, we are as joyful and happy as can be. We sincerely wish Seohyun a happy 20th birthday."
Seohyun's management agency, SM Entertainment, revealed, "Seohyun was deeply moved by the unexpected surprise present. On this day (28th), Seohyun finished her afternoon schedules and had a simple birthday party with SNSD members and fans at the Seoul Chungdamdong SM Entertainment office."
Before this, SNSD fans had garnered attention with Taeyeon, Jessica, and Sooyoung's newspaper birthday advertisements. Seohyun is currently appearing on MBC's variety program as an imaginary couple with CN Blue's Jung Yonghwa.
Article by: Moon Miyoung reporter@hankooki.com
Translated by: Hyunjin808@soshified.com/forums
Original article: [Click]