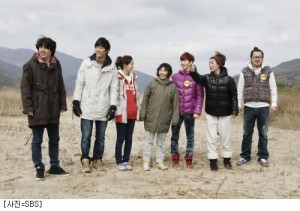 SBS's Good Sunday Family Outing 2 will be ending early after 5 months.
Although there was to be a filming of a new episode on the 28th and 29th ,due to the military ship sinking incident and the World cup going on in South Africa, many episodes were not aired and thus a decision to end the show came up and filming will not take place. Thus a final episode will be shown at the beginning of July. This episode was filmed last month.
Family outing 2 started enthusiastically on the 21st of February with a star filled cast, but the show will come to an end.
With such a star filled cast, there was a lot of anticipation and the 1st episode got a viewing percentage of 16.5%, but starting with the 2nd episode, the ratings started to drop.
To recover ratings, the producing team decided to permanently add Kim Heechul from Super Junior as the 8th family member, but ratings still didn't increase as much as they had hoped for.
A new action variety will replace Family Outing 2 and it will feature Yoo Jaesuk, Haha, Lee Ssang and others. And their first guest will be a family member from Family Outing 1, Lee Hyori.
Translator: Seohyun_is_Best@soshified.com
Source: Link