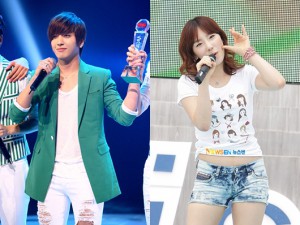 [newsen Reporter Bae Sunyoung]
Jung Yonghwa and his sister-in-law Taeyeon showed everyone the cow herding dance.
Jung Yonghwa appeared in the KBS 2TV Win Win episode that was broadcasted on June 22nd.
Jung Yonghwa is currently in a fake marriage with Seohyun of SNSD through MBC's popular variety show, We Got Married. This was why doing the dance with sister-in-law Taeyeon drew a lot of attention from the viewers. Jung Yonghwa had already learned the dance from Seohyun through We Got Married.
When asked the question "In the past you said that you were Taeyeon's fan but now who do you like?" Jung Yonghwa answered, "At first I liked Taeyeon sunbae. But it's different now because I see Seohyun more often…" and showed his affection toward Seohyun by saying, "These kinds of questions can be upsetting to Seohyun."
Jung Yonghwa also revealed that "Seohyun and I contact each other outside of We Got Married. When I was diagnosed with vocal cord nodules and stayed at a hospital, Seohyun said that she'd come inside to see how I was doing."
source: http://www.newsen.co…

translation: soshi00@soshified.com