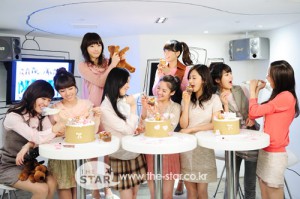 In the midst of the World Cup increasing the popularity of chicken, netizens picked the group SNSD for the tempting chicken model that guides my hand to the telephone.
A community photo site, 'DC Inside', hosted a survey from the 15 to the 22nd, asking, "Which tempting chicken model guides your hand to the telephone?" and SNSD placed 1st.
Among a total of 23,269 votes, there were 6,427 votes (27.6%) for SNSD. SNSD has been the exclusive model for the chicken brand, 'Goobne Chicken' since 2008. Goobne uses SNSD in their ads, free calendars, and other varieties of promotional activities, creating brand awareness and increasing their sales, growing as a strong contender in the chicken industry. Goobne Chicken considers their success as a result of the many appearances of the idol girl group in their advertisements.
The group, Super Junior, took 2nd place with 4,434 votes (19.1%). Super Junior has been the exclusive model for 'Kyochon Chicken' since 2009 and even participated in the opening event for China's first location. They are showing appeal beyond Korea, into Asia's markets, achieving reputation as a Hanryu star.
3rd place, with 4,161 votes (17.9%) was the group, SHINee. At the end of 2009, SHINee was included in the idol chicken model market as a model for Mexicana. They attracted attention by filming a CF with fans. Mexicana held fansign events for SHINee's fans and are using aggressive marketing.
Following behind are Younha and Super Kidd as models for 'Masday Chicken' and Kim Hyunjoong, a member in SS501, is the model for 'Hotsun Chicken'.
Credits to: thestar@chosun.com
Translated by: Hyunjin808@soshified.com/forums
Original article: [Click]