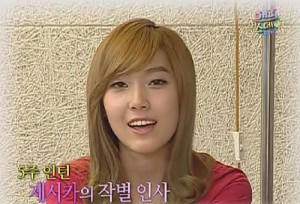 Jessica of Girl's Generation left KBS 2TV's birth promoting variety show "Happy Birthday" on the 7th of June.
In spite of her last episode, she took the role of being an intern nurse diligently.
After recording her last episode, she gave a short farewell by saying "It was very fun" and "Let's meet again next time".
Jessica appeared on "Happy Birthday" for the first time on May 10th as a nurse with lots of curiosity, while receiving lots of love from the audience due to her peculiar way of talking.
Jessica decided to leave the program for Girl's Generation's overseas activities.
Translator: Seohyun_is_Best@soshified.com
Link: Click