Why are SNSD, Suju, and Jung Ryeowon in a Picture Together?
Popular stars from idol group members to actors and actress were in a friendly group picture, catching the interest of netizens.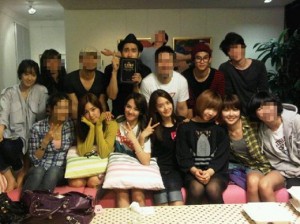 Recently, a picture was posted online. It was a group picture with SNSD's Yoona, Sooyoung, Tiffany, Hyoyeon, 2NE1's Minzy, and actors Ryeowon and Kim Sooyhun, and Super Junior's Choi Shiwon.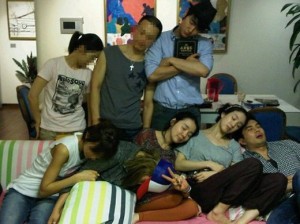 On June 2nd, Choi Shiwon posted the picture of their Christian group meeting on twitter with the words, "Rest in God!! No Shame, No Fear!!
" In the picture, Choi Shiwon is hugging the Bible and singer Soy [NOT SSF's forum founder Soy], actress Ryeowon, actor Jung Joon all did a funny pose for a picture.
These celebrities created a Christian gathering called "MoonMiEn", and they are known to keep up with their spritual lives with small-scale services and prayer meetings even amidst their busy schedules.
[MoonMiEn stands for Moonhwa, Media, and Entertainment]
Many netizens showed interest, commenting, "I want to go to this church," "Choi Shiwon is a true church oppa," "I should immediately sign up for this because SNSD members are there," "they look nice," and "I heard they do good work as well."
On another note, there has been word that the stars that are part of MoonMiEn have done various volunteer work. Beginning of last month, MoonMiEn members, actress Park Yejin, actor Lee Seojin, FinKL debuts Sung Yuri and Lee Jin, SNSD's Sooyoung, Hyoyeon, and Tiffany volunteered at a soup kitchen, creating a lot of interest.
*******************************
Source: Star News
Translation: taengbear@soshified.com