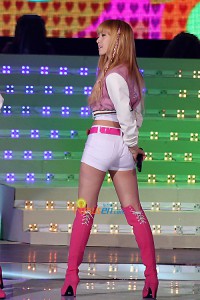 [Newsen Bae Sunyoung Reporter]
Girls' Generation's Jessica will be withdrawing from KBS 2TV 'Happy Birthday'.
Jessica has been appearing in 'Happy Birthday' as a nurse who is full of curiosity. But after 5 weeks of term as an intern, she is withdrawing from the show on 7th.
The program's staff said "From the beginning, Jessica's appearance was planned out to be only 4 weeks long, and the program is going along with two or three guests coming out every week. So as of now, we do not have any plans to look for a replacement of her."
It is known that Jessica's reason for withdrawing is because of the Girls' Generation's overseas promotion towards the end of this year. Jessica is appearing as a permanent guest on "Happy Birthday', showing off her witty talking.
On the last broadcast, Jessica will be sharing her joy about the process of birth with congratulating mission. The date for broadcasting is 7th, 11:05 PM.
Translated by: soCOOL@soshified.com
Credits to: Newsen.co.kr(Bae Sunyoung reporter/sypova@newsen.com)
Original Article: CLICK