Who Would You Want to Give a Golden Rose to? SNSD is 1st!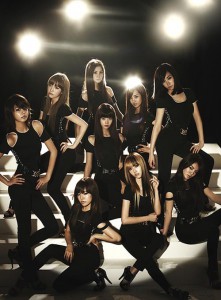 SNSD was chosen as the number 1 special girl group that fans would want to give a gold rose gift to.
According to Yoon Jongshin's Flower Delivery (www.flower365.com), 755 people filled did a survey between May 7th and June 3rd. The survey was titled, "Which special girl group would you want to give a golden rose to?" and SNSD resulted first with 329 votes (43.5%). Behind SNSD, the Wondergirls was second with 238, or 31.5% of the votes, and T-Ara in third with 148 or 19.6% of the votes.
A rep of Yoon Jongshin's Flower Delivery – Flower365, named Jung Jichul, said, "Giving a golden rose as a gift to somebody means that their feelings for the other person is unchanging. For the survey, you could tell that SNSD is a national group that is explosively popular and has huge influence in our society, because not only do they have fans in their teens and 20's, but they also have fans in their 30's and 40's." He also shared, "The responses from the people who voted for SNSD was that they loved the group because it was full of girls who are totally cute and unique."
The representative also said, "Wondergirls and T-ara in 2nd and 3rd places are also very huge and have a great fanbase. Even still, although this was just a survey, voters commented that if it this were to take place in real life, that they would send 24-karat pure gold plated roses to SNSD, Wondergirls, and T-Ara. The popularity wave of girl groups seems like it won't be dying out any time soon."
[…]
*******************************************
Source: Kyunghyang News
Translation: taengbear@soshified.com