IY's Sunny is a Hidden Heavy-Drinker, "Makgulli is like my blood"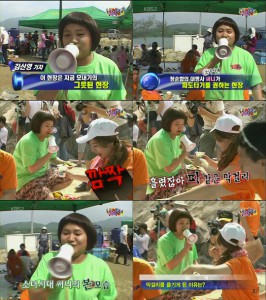 [TV Daily Repoerter Kim Jinkyung] SNSD's Sunny showed a unique attachment to makfulli.
*(Makgulli is a Korean rice wine alcohol)
On the June 4th episode of KBS 2TV's "Invincible Youth," the G7 members took on an intense farming challenge with the Idol-village challenge team.
On this day, the G7 members and the challenge team finish planting rice plants, and gather to eat snacks prepared by Sunhwa and Shinyoung.
They also each had some makgulli, as they did not forget to have some with the snacks, and took time to encourage one another.
The playful and silly Shinyoung said, "This is a scene of our rice plants in our bowl. She also drew the camera to Sunny's face while she was drew the makgulli, by saying, "we've captured Sunny from SNSD, the representative girlgroup of innocence, taking a shot!"
Sunny, being surprised, spilled a little bit of the makgulli and said a comment which was not very girl-group-like, "I spilled the makgulli that's like my blood," making everybody around her laugh.
*(This means that the makgulli is as precious as her blood)
The G7 members and the idol-challenge team plant rice and eat snacks together, sharing a fun time.
*************************
Source: TV Daily
Translation: taengbear@soshified.com