Girl group SNSD was selected 1st place as the girl group that suits pro baseball pitching best by DMB viewers.
QBS, which broadcasts the terrestrial DMB pro baseball telecasts, created a survey from May 17th to May 30th, targeting 508 total DMB viewers asking which 'girl group would suit pro baseball pitching best'.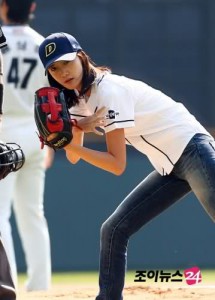 It resulted in SNSD placing 1st with an overwhelming figure of 54% (279 votes).
Kara was supported with 17%, placing 2nd (91 votes), After School placed 3rd with 10% (54 votes). It is known that After School's Uee is the daughter of Nexen Heroes' pro baseball coach, Kim Sunggab.
QBS's organization manager, Lee Heedae said, "Pro baseball's popularity along with pitching events becoming recognized as an actual event are causing girl groups to compete for participation in these events and the interest in being a pitcher is high." and "In the recent Jamshil opening game, 1st place SNSD's Taeyeon, Seohyun, and Yoona participated, receiving massive responses and left good impressions on DMB viewers."
Article written by: Lee Miyoung reporter
Picture credits to: Park Youngtae reporter
Translated by: Hyunjin808@soshified.com/forums
Original link: [Click]