SNSD, 4Minute, Shinee, 2PM Cast Their First-Ever Votes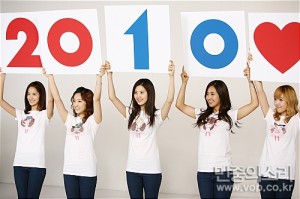 There is a lot of interest in popular stars that are to attend the 5th regional voting where the votes are taken place at the same time nation-wide.
SNSD's Yoona (20), 4Minute's Huh Gayoon (20), Shinee's Onew (21) and Jonghyun (20), and 2PM's Chansung (20) are scheduled to attend an event to show their votes.
On this voting day, these first-time voter idols will be in various polling stations in Seoul and Kyungkido.
Yoona will be at Daerim in Youngdeungpo, Huh Gayoon will be at Sadang in Dongjak, Sunny will be in Shingyo in Jongro, Onew will be in Gwangmyung Haun in Kyungido, Jongyun will be at Dongdaemoon Chanshindong, and Chansung will be at Seoul Sungdong Eungbong polling stations.
On another note, Park Gyuri, Han Seungyeon, and Goo Hara of KARA, the promotional representative girl group of the national elections, have already attended in the voting session on April 27th.
*********************
Source: ENS
Translation: taengbear@soshified.com