SNSD's Sunny is "more nervous than before a performance" for her First Vote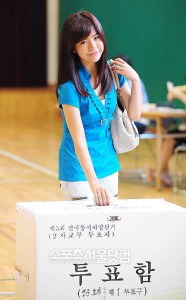 [SportsSeoul.com | Reporter Seo Bohyun]
SNSD's Sunny casted her a vote for the first time in her life on the 5th nation-wide regional elections day.
On June 2nd, 3am, in Jongro Shingyo in Seoul, Sunny appeared at the polling station at Seoul Agricultural School. She was born in May 1989, so she turned 21 last month, but on this voting day, it was her first time casting a ballot.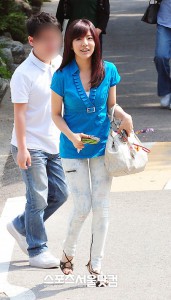 Sunny appeared to be very expectant as she went to the polling station. She said, "I guess it's because it's my first time, but I'm so nervous," and also said, "It's already very meaningful to me because SNSD sang the promotional song for the elections this year, but I think this will be a very special day."
After saying this, Sunny calmly went to go vote. After hearing the instructions from the staff at the polling station, she took her turn to fill in a ballot. Even up until she put her ballot paper in the box, she looked very cautious.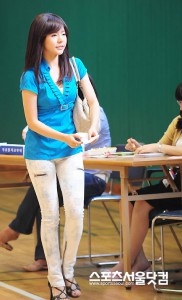 After completing her first ever vote in about 10 minutes, Sunny could not hide her very happy expression. She said, "As much as it felt very meaningful to cast my first vote, I will also continually take interest in voting in the future as well, as it is a citizen's right."
Sunny also kept the secrecy rule during her voting. When she was asked who she voted for, she answered, "It was harder than I expected to vote for 8 candidates. I can't tell who I voted for, but I'll be waiting for the election results."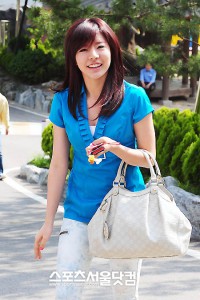 This day, Sunny had a very fresh image. She wore a blue blouse and matched a pair of white jeans. Her look went perfectly with the bright weather. Dressed and styled from head to toe, her image stood out from others. Everybody was able to see a bit of her pleasantly simple fashion style.
Her bright smile was still the same. From when she was heading to the polling station, until she was finished, she did not fail to show her bright expression. In between, when fans would recognize her, she did not forget to lightly greet them with a handshake and bow.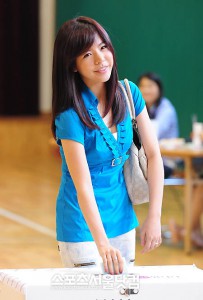 On another note, Sunny, as a part of SNSD, finished promotions for their Repackaged album and also ended her appearances in variety shows to have a time to recharge. Now, SNSD is planning to promote overseas in Asia in the future.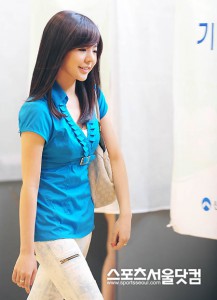 ************************************************************
SNSD's Yoona is Nervous for her First Vote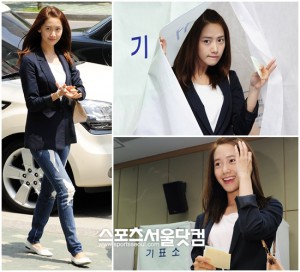 [SportsSeoul.com | Reporters Song Jiwon & Lee Hyunkyung]
SNSD's Yoona attended the 5th nation-wide regional elections.
On June 2nd at 1pm, she went to the Daerim Culture Library in Youngeungpo Daerim in Seoul. She gained a lot of interest because she came to vote as a regular citizen despite her personal schedule.
As Yoona was born in 1990, this was her first ever vote, and her expression showed her nervousness and expectancy. Yoona said, "It's so strange and I'm so nervous to be taking part in choosing the people who will work for the country. It really feels like I'm an adult now."
Unlike how she usually appears on TV, she wore nice and simple outfit. Yoona wore a clean navy jacket with skinny jeans and flats, showing a comfortable and clean look. It went well with her innocent face.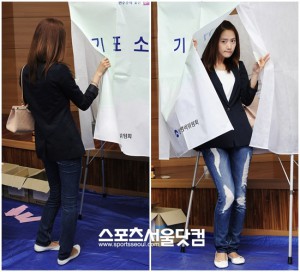 Throughout the entire voting process, Yoona never failed to smile. While she was waiting in a long line, she looked nervous, but her anticipation seemed to be greater. As she came out of the polling booth and cast her ballot in the ballot box, she had a very big smile on her face.
After casting her vote in about 10 minutes, Yoona shared her thoughts on her first-ever vote. She said, "It was difficult choosing 8 people to vote for. I'm already curious to see who will be chosen."
She also said, "Since SNSD sang the Vote Song, I'm hoping that many people will come out to vote. Please come out to the polling stations to vote, rather than thinking, 'I'm just one person'"
Other than Yoona, Yuri, Sooyoung, Sunny, and Hyoyeon have also casted their first-ever votes. Taeyeon was born in 1989, and has already attended the last National Assembly elections.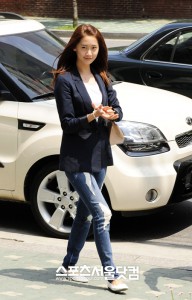 Came to cast a vote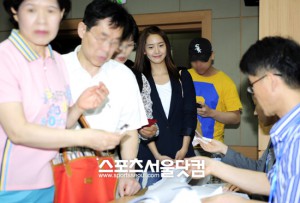 Waiting in line for her turn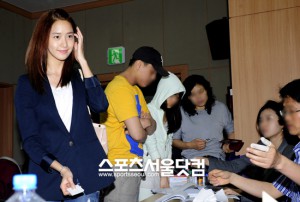 Finally receiver her ballot papers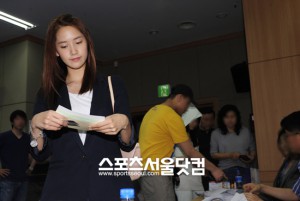 It's important to double check all the papers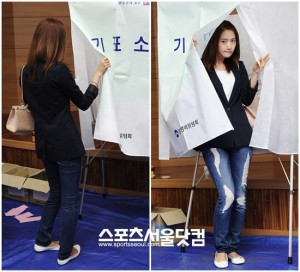 Voting with a serious face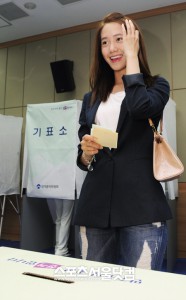 It's a secret who she voted for~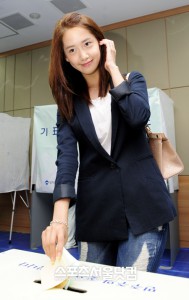 Her first-ever voting is a successs!
*********************************************************************
Sources: Sports Seoul 1 and Sports Seoul 2
Translation: taengbear@soshified.com