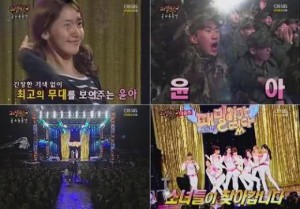 Best idol girl group Girl's Generation sent the military men of Dochon-do into a crazy frenzy.
On the most recent episode of "Family Outing 2", part of SBS's "Good Sunday", the family members were shown in the middle of a surprise concert for the military men of Dochon-do. This was the first performance in this region since 63 years ago.
On this night, the number audience number reached 1500 people when Girl's Generation's Yoona took the stage with a different feel. At this point, due to nervousness Yoona made a mistake. But the audience cheered her on my shouting "It's Okay! It's Okay!". And thus Yoona continued her sexy dance routine causing chaos in the crowd.
The Family's MC for the night "Popeye" Lee Sang Yong then surprised everyone with Girl's Generation. The members came due to Yoona's request and thus 7 other members came to give strength to the concert.
Due to conflicting schedules, leader Taeyeon was unable to make it and thus 8 members of Girl's Generation performed their hit song "Oh!". After Yuri made the crowd explode by saying "Soldier oppas, seeing you in front of us makes us really excited".
The soldiers then encouraged the members to sing "Gee" by chanting "Gee, Gee, Gee, Gee, Baby Baby Baby".
When the concert was over, the excited faces of the family members were shown rejoicing, showing their inner feelings.
The next morning, the family members had to prepare a food for 400 people. They prepared a chicken dish.
Source: link
Translator: Seohyun_is_Best@soshified.com