MBC Voting Broadcast, SNSD leads the election encouragement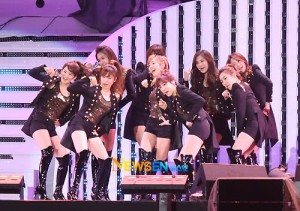 MBC together with SNSD, has started to encourage people to vote. At the same time, the strategy is to liven the elections with a festival like atmosphere.
Recently through the homepage, MBC has revealed the voting song 'La La La' sung by SNSD. On June 2nd, the day of the district elections, SNSD is set to appear on a program on MBC's Voting Broadcast called 'Vote Changing Quiz'.
On May 26th, somewhere in Seoul Yeouido, at the press conference for the Voting Ballot Special Broadcast, 'Vote 2010' a MBC representative revealed, "Through SNSD's voting song 'La La La' we will be encouraging people to vote."
'La La La' was produced through a collaborative effort with SM Entertainment. The song was sampled from the carol 'Deck the Halls' and should be familiar to one's ears. The lyrics contain, "Let's not push around anymore, by voting let us make a nation we are proud of".
SNSD's members: Yuri, Sunny, Hyoyeon, Yoona and Sooyoung are going to appear on the June 2nd broadcast of 'Vote Changing Quiz'. 'Vote Changing Quiz' is a parody of MBC's popular quiz program 'World Chaning Quiz'. The cast will be quizzed on things relating to the election. Kim Goora and Park Misun will be the hosts, and the cast set to appear are the SNSD members mentioned beforehand, Lee Kyungshil, Lee Soogeun, Super Junior's Leeteuk & Eunhyuk, and BEAST's Lee Kikwang.
Omitted the rest of the article.
Source: Article
Translator: soshilover @ soshified.com