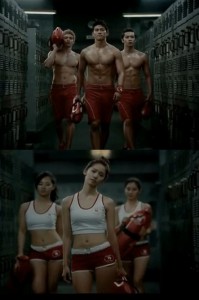 [Newsen Reporter Kim Jiyoon]
The top idol groups SNSD (Taeyeon, Yoona, Jessica, Sooyoung, Hyoyeon, Yuri, Tiffany, Sunny, Seohyun) and 2PM (Junsu, Wooyoung, Chansung, Junho, Taecyeon, Nickhun) collaborated together for the "CABI Song," which was finally released to the public.
During the end of April, the two groups got chosen as the models for the Samsung Everland Caribbean Bay water park. Since then the fans have been looking forward to it and made the CF song an instant hit when it was released.
The "CABI Song" which has a nice beat and an addicting melody was produced by Shinsadong Tiger, who also produced 4minute's "Hot Issue" and T-ara's "Bo Peep Bo Peep."
People have commented that the "CABI Song" adds an increasing tension to the beastly image of 2PM, who capture the hearts of many girls with their chocolate abs, and the new sexy charisma of SNSD.
source: http://www.newsen.co…005201048591001
translation: soshi00@soshified.com