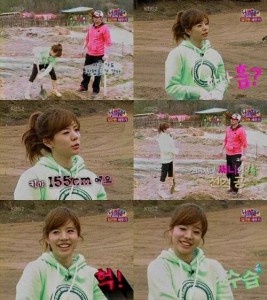 SNSD's Sunny's height was revealed as she mentioned the height herself as 155cm.
In KBS 2TV's 'Invincible Youth' that aired May 14th, G7 went out to put up signs for the spring decoration in Yoochiri. Sunny and Kim Taewoo worked together in shoveling.
Sunny seemed to be skilled at shoveling, and Kim Taewoo complimented, "I think you can apply to be a female soldier. To this, Sunny said there was one problem to it, confessing, "My height is 155cm."
Then, after realizing her mistake, she mentioned, "I shortened 2cm." Sunny's profile in major portal sites is 157cm.
On the other hand, in this episode, G7 prepared for spring with activities like field plowing, and training the cow with Noh Juhyun, Kim Shinyoung, and Kim Taewoo.
Credit: Sosiz
Translation: typicalharu@soshified.com/forums