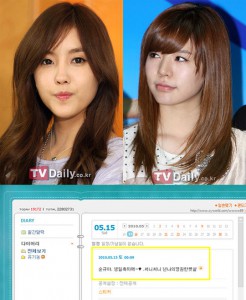 [TVDaily=Reporter Choi Junyong]
Hyomin (real name Park Sunyoung, 22) of the 6-member group T-ara wished her best friend, Sunny (real name Lee Soonkyu, 22) of SNSD, a happy birthday.
On the 15th, Hyomin posted on her minihome page diary, "happy birthday Soonkyu~ Sunny, Sunny, you are forever my sunshine."
She sent a congratulatory message to her best friend, Sunny, whose birthday was on the 15th. The two have been known to become close friends through multiple programs. In addition, these two are currently members of the KBS 2TV variety show Invincible Youth.
Many netizens have diverted their attention to Hyomin's cute message which clearly demonstrated their close friendship.
source: http://news.nate.com…/20100515n02627
translation: soshi00@soshified.com