[TVReport Kim Yoon Kyum Reporter]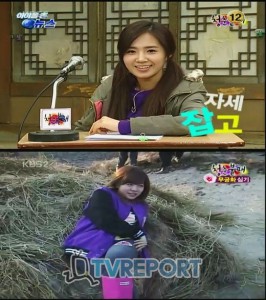 The controversy of Girls' Generation's Sunny and Yuri's rumor about resigning has been verified from its program's staffs. Attention is being developed regarding the future results of them dropping out.
A staff from "Invincible Youth' said in the phone call with TV Report on 14th, stated "Sunny and Yuri will be resigning from it due to their preparation for Japan promotion and concert."
And the director of the show, Kim Ho Sang PD said "We're currently doing audition for the selection of new member, and if we decide the new member for our show, we will reveal who it is on early next month." "The new member can be a character with different characteristics."
This resignation of Sunny and Yuri, is the second resignation of members of Invincible Youth. The very first resignation was from Nam Hee Suk, who was the main MC for the show and decided to leave during the end of last year.
After the dropout of Nam Hee Suk, Invincible Youth changed its program's format from games between the members, to farming missions or often recording from another site that is outside the Idol Village. Recently, they are progressing with planting Mugoonghwa flowers, potatoes, and other farming projects due to facing busy farming season. Because of this, their program's intention is changing into more of experiencing farming village rather then entertainment purposes.
Due to Sunny and Yuri's resignation, changes in character settings will be inevitable. Sunny and Yuri, acknowledged as 'Chicken Catching Soonkyu-Gag-dol-Power Sunny', -Nation's daughter-in-law-President Kwon', were members of G7 who can perfectly take their role.
Especially because of Sunny's resignation, it is inevitable for a character change of T-ARA's Hyomin, who was setted up as 'Sunny's Folding Screen'
Many viewers have complained after the news of Sunny and Yuri's resignation; expressing their sadness.
One user of an internet community said " I've been watching Invincible because of Sunny, who gave us big laughters with Kim Shin Young, and Yuri, who setted up a love line with Gom Taewoo. This is depressing.
Another user has stated "I wish the new girl group member will support the already existing characters like Adult-Dol Narsha, and White Paper Sunhwa, and to have her original character as well."
Translated by: soCOOL@soshified.com
Credits to: typicalharu, www.tvreport.co.kr (Kim Yoon Kyum Reporter)
Original article: http://www.tvreport…._view&idx=46363