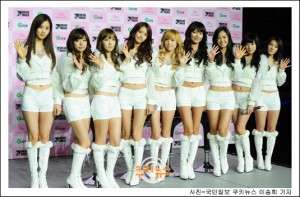 On the 15th, Sunny of the nine-membered girl group SNSD received a congratulatory message for her birthday.
SNSD were guests of the "Kim Janghoon Psy Concert," which was held at the Seoul Olympic Stadium on the 15th at 7:00 PM. They sang Tell Me Your Wish with Kim Janghoon during the last part of the show.
After their performance, SNSD members revealed that "today is Sunny's birthday" and asked the 60,000 audience members to wish her a happy birthday. So the audience sang the happy birthday song to Sunny in one loud voice, and SNSD thanked them by performing their hit song, Gee.
Only eight members of SNSD were present because Taeyeon was busy with her musical, "Midnight Sun."
*omits concert information
source: http://news.kukinews…273964060&cp=nv
translation: soshi00@soshified.com